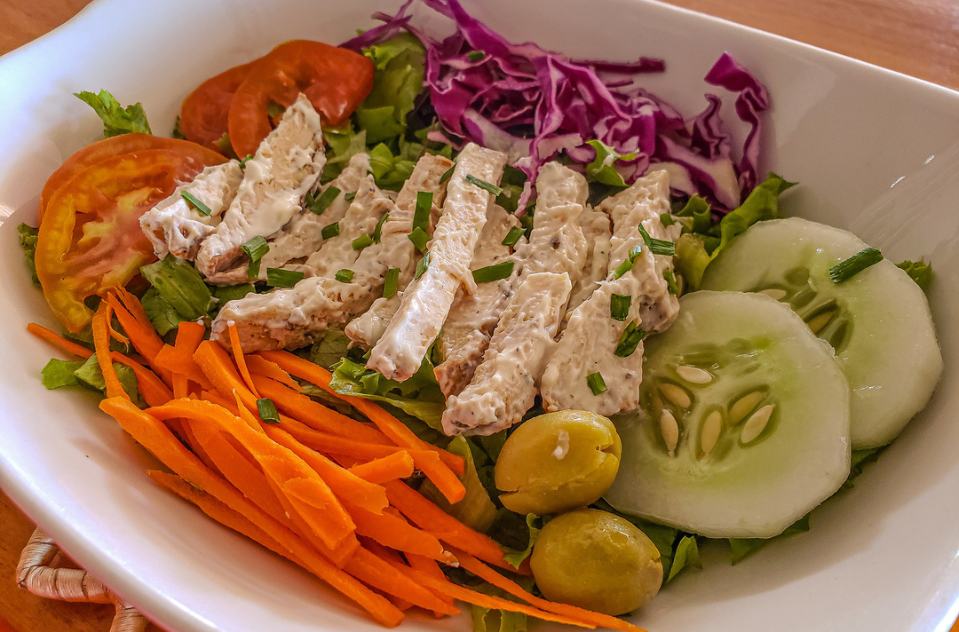 Grilled Shrimp Salad
Oven-grilled shrimp with lettuce, tomatoes,  carrots,  cabbage,  cucumber and green manzanilla olives. Fresh and fabuloso!

Caprese Salad
An Italian classic–fresh soft mozzarella cheese layered with vine-ripened tomato slices and fresh basil. Garnished with extra virgin olive oil and coarse sea salt.                       

Italian Greens and Beans
Seasonal lettuce leaves, fresh basil, string beans, new baby potatoes and fagioli with homemade lemon pesto dressing and hardboiled egg.

Classic Chicken Salad
Grilled chicken served with mayonnaise, served over lettuce, tomatoes, carrots, cabbage, cucumber and green olives. Tossed in a dressing of your choice.

Seasonal Green Salad
A fresh assortment of our favourite garden vegetables – lettuce, tomatoes, carrots,  red cabbage cucumber, and green olives.  Tossed  in  a  dressing  of  your  

Dressings
Choose from House Balsamic, Honey Mustard or Italian 
Start with MARGHERITA or CALZONE (Folded pizza) then, make it uniquely yours with your favorite toppings!
Capers
Corn
Egg
Fresh Tomatoes
Red Onions
Bell Peppers
Black Olives
Caramelized Onions
Hot Chili Peppers
Seasonal Greens
Anchovies
Artichokes
Caponata
Crème Fraiche
Green Olives
Kalamata Olives
Mushrooms
Parmesan Cheese
Pineapple
Tuna
Blue Cheese
Goat Cheese
Grilled Chicken
Mozzarella Cheese
Soft Mozzarella
Bacon Strips
Ham
Italian Sausage
Minced Beef
Pepperoni